Black Russian Terrier Scientific Classification
KingdomAnimaliaPhylumChordataClassMammaliaOrderCarnivoraFamilyCanidaeGenusCanisScientific NameCanis Lupus
Black Russian Terrier Conservation Status
Black Russian Terrier Locations
---
Black Russian Terrier Facts
Fun FactBlack Russian Terriers, or blackies, were bred in the former USSR to be a working dog for the army.TemperamentBrave, confident and courageousTrainingShould be trained from an early age as they will become dominantDietOmnivoreAverage Litter Size5Common NameBlack Russian TerrierSloganConfident, calm and highly intelligent!GroupTerrier
Black Russian Terrier Physical Characteristics
Colour
Skin TypeHair
Black Russian Terrier Images
Click through all of our Black Russian Terrier images in the gallery.Previous
Next
View all of the Black Russian Terrier images!
---
Find your favorite Animals!Search
---
Black Russian Terriers, or blackies, were bred in the former USSR to be a working dog for the army. A mix of about 17 different breeds went into creating this large, black dog.
Some of the breeds used to create this breed include Rottweilers, Giant Schnauzers, Airedale Terriers, and Newfoundlands. Black Russian Terriers worked to patrol the border or keep watch over prisoners.
In the 1950's, the Russian Army did not need as many Black Russian Terriers and allowed officers to bring their companions home and began selling Black Russian Terriers to civilians. The people of Russia soon learned what an intelligent, calm, and affectionate dog a blackie can be. Black Russian Terriers make a great companion and guardian. Their personality traits also make them a good fit for homes with children.
See all of our expert product reviews.
Owning a Black Russian Terrier: 3 Pros and Cons
Pros!
Cons!
Family-friendly
Blackies can make an excellent family pet. They are playful, protective and loving.
Needs a lot of attention
Blackies love getting attention from their family members. However, if they don't get enough attention or are left alone for too long, they can develop separation anxiety or may become destructive.
Good guard dog
Black Russian Terriers are very alert and protective. They are more suspicious of strangers or other dogs and will bark to alert their owners when something seems off.
Higher maintenance
Black Russian Terriers need more grooming and trimming than many other breeds. Their coat will need to be brushed multiple times a week, and you will need to trim their hairs on their face or hire a professional groomer.
Loyal
Blackies are very loyal and develop a strong bond with their owners.
Need physical and mental stimulation
Black Russian Terriers will need both mental and physical stimulation. If you aren't able to provide both of these on a daily basis, this may not be the right breed for you.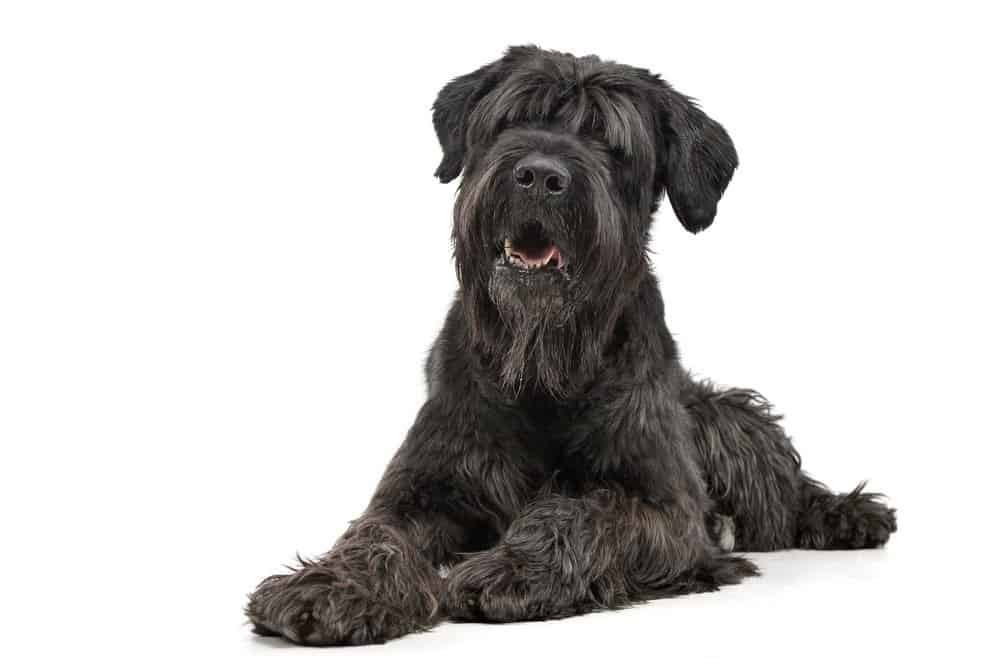 Black Russian Terrier Size and Weight
Black Russian Terriers are large terriers. Both males and females generally weigh between 80 and 130 pounds. Males may be a little taller with a height between 27 and 30 inches, whereas females stand between 26 and 29 inches tall. Black Russian Terrier Puppies weigh between 24 and 36 pounds when they are three months old. By the time they are six months old, they will have grown to weigh between 64 and 78 pounds. They will be fully grown around the time they are 12 months old.
| | | |
| --- | --- | --- |
| | Height | Weight |
| Male | 27 inches to 30 inches | 80 pounds to 130 pounds |
| Female | 26 inches to 29 inches | 80 pounds to 130 pounds |
Black Russian Terrier Common Health Issues
In general, Black Russian Terriers are a healthy breed. However, there are a still a few health issues you should be aware of that may impact your dog.
One issue to be aware of is hip dysplasia. This is a genetic condition where the thigh bone doesn't connect correctly with their hip bones. It causes the two bones to rub against one another. This can be quite painful and may cause a blackie to limp. They can develop arthritis with age and will likely be very uncomfortable. Since this condition is genetic, if a blackie has hip dysplasia, they should not be bred.
Elbow dysplasia is another condition to be aware of with Black Russian Terriers. Like hip dysplasia, this condition is likely caused when the bones and joints don't grow and develop properly. This leads to a weakened joint. Blackies with elbow dysplasia may develop arthritis. Surgery, medication, or weight-management measures may be recommended by a vet to treat elbow dysplasia.
Health and Entertainment for your Black Russian Terrier
See all of our expert product reviews.
Black Russian Terriers may also suffer from Progressive Retinal Atrophy, or PRA. With this condition, the retina gradually deteriorates. Dogs will become night-blind at first, but will eventually lose all eyesight.
To recap, three common health concerns for Black Russian Terriers include:
Hip dysplasia
Elbow dysplasia
Progressive Retinal Atrophy (PRA)
Black Russian Terrier Temperament and Behavior
Black Russian Terriers are very confident and intelligent. These traits make them excellent guard dogs. However, their personality also makes them a good fit for families with children. They can make a great playmate for a child.
Black Russian Terriers enjoy spending time with members of the family. They love getting attention, but if they don't get enough attention and are left home alone, this breed can also develop separation anxiety. Also, if left alone for too long, blackies may engage in destructive behaviors.
Proper socialization is important with Black Russian Terriers. It will help them develop a more even temperament and make them more tolerant of people and other pets.
How to Take Care of a Black Russian Terrier
A Black Russian Terrier will need special care tailored to their nutritional needs, temperament, health concerns, and the other unique features of this breed.
Black Russian Terrier Food and Diet
As a large dog, Black Russian Terriers will eat a lot of food each day. They typically eat 3-4.5 cups of food a day. The exact amount that your blackie will need will vary based on their weight, age, activity level, and health concerns. If you aren't sure how much food your blackie should be consuming, check with your veterinarian. Making sure your dog is getting the right amount of food is important for preventing obesity, which can lead to other problems like hip and elbow dysplasia.
Most dogs of this breed do best when their food is split into two smaller meals a day, rather than one large meal. This can also help reduce the risk of bloat. Always look for high-quality foods from reputable manufacturers. You should select a large breed food for adults and puppies alike.
Puppies have smaller stomachs and will need to be fed smaller, more frequent meals throughout the day. Young puppies should be fed four times a day. After a few months, you can drop it down to feeding them only three times a day, then after a few more months, they should be fine eating two times a day.
Black Russian Terrier Maintenance and Grooming
This breed has higher grooming needs than some other breeds. They have a double coat with a thick undercoat and a coarse outer coat. You will need to brush their coat at least once, if not more, every week. Additionally, the hairs around their face can grow long and make the dog look shaggy. They will either need to be trimmed by a professional groomer or trimmed by their owner periodically.
This breed is not known for heavy shedding, but they will shed some hair around the house if they aren't brushed regularly. While they are not a heavy shedding breed, they are not hypoallergenic dogs. So, they are not a good option for homes with people who suffer from allergies.
In addition to brushing and grooming your dog's fur, you will also need to brush their teeth a few times every week to prevent plaque and tartar from building up. Their nails will also need to be trimmed regularly. If the nails get too long, they can make it painful for a blackie to walk.
Black Russian Terrier Training
This breed is relatively easy to train. Training is essential though. They are a very large dog, and without consistent, positive reinforcement-based training, they can be quite unruly and may become aggressive. They do learn quickly because of their higher intelligence, so with consistency, your blackie should pick up on commands and appropriate behaviors relatively easily.
In addition to training your dog from an early age, socializing them is also important. Socialization will help a Black Russian Terrier know how to act in different situations and around different people and pets.
Black Russian Terrier Exercise
It will be important to keep your Black Russian Terrier active both physically and mentally. They are not a high energy dog breed, so they don't need as much physical exercise as some other breeds. Giving your dog about 45 minutes of exercise each day is generally sufficient. Walks, jogs, and playtime are all good options. Getting your dog involved in canine sports can help give them more mental stimulation as well.
Black Russian Terrier Puppies
Before bringing home a Black Russian Terrier puppy, make sure your home is ready for the new addition to your family. Puppy-proof your space by removing any potential hazards or harmful chemicals. Also, move anything out of the space that you wouldn't want to see destroyed by a puppy.
You should also purchase food, a collar and leash, a dog bed, a crate, toys, and any other supplies that your dog will need. This will help ensure that you're ready as soon as you bring them home.
It will be important to watch how much exercise your dog gets. By the time the puppy is three months old, you can start taking them for five-minute walks and slowly increase the length of these walks. Until a puppy is nine months old, they should not participate in any intense activities such as jumping, going up stairs, or running on firm surfaces. A puppy's bones and joints are still developing, and these activities could lead to an injury.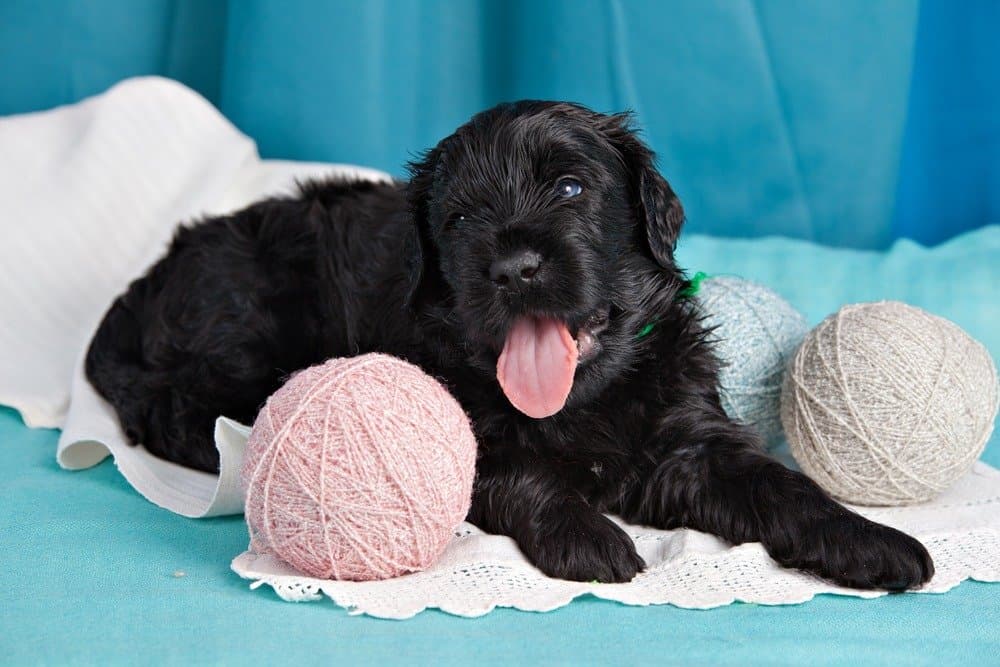 Black Russian Terriers and Children
This dog can make an excellent dog for families with children. They can be both protective and playful. Even though they are a large dog, Blackies can be very gentle with children. If you have younger children in the house, you should always closely supervise them when they are around your Black Russian Terriers. A Black Russian Terrier is a large dog and could accidentally knock down a child as they play together.
If you are looking to adopt a Black Russian Terrier from a rescue organization, you will want to find out if it is tolerant around children. Blackies do best when they grow up alongside children, so an older dog that wasn't raised around children may not be the best match for you.
Dogs similar to Black Russian Terrier
Giant Schnauzers, Rottweilers, and Airedale Terriers are three breeds similar to the Black Russian Terrier.
• Giant Schnauzer: The Giant Schnauzer was one of the breeds used to create the Black Russian Terrier. Both breeds are very territorial and can make an excellent watch dog. Blackies make a better family pet than Giant Schnauzers. They are also more tolerant of other dogs.
• Rottweiler: Rottweilers and Black Russian Terriers are both about the same size. Both breeds have an average weight right around 110 pounds. Rottweilers are easier to groom than Black Russian Terriers that will need to be brushed multiple times each week. Both breeds make good watch dogs, but a Rottweiler is more likely to bite than a Black Russian Terrier is.
• Airedale Terrier: Airedale Terriers and Black Russian Terriers are both very affectionate and social breeds. They are both good breeds to have around children. Black Russian Terriers are a much larger breed than Airedale Terriers, though. The average weight of a Black Russian Terrier is 111.5 pounds, while Airedale Terriers weight just 57.5 pounds, on average.
Popular Names for Black Russian Terrier
Looking for the right name for your new Black Russian Terrier? Here are a few ideas for you to consider:
Max
Scout
Sully
Cooper
Barkley
Olive
Maggie
Daisy
Zoey
Maisie