Bullfrog Scientific Classification
KingdomAnimaliaPhylumChordataClassAmphibiaOrderAnuraFamilyRanidaeGenusLithobatesScientific NameLithobates catesbeianus
Bullfrog Conservation Status
Bullfrog Locations
---
Bullfrog Facts
Main PreyInsects, Spiders, Small FishFun FactHas loud cow-like calls!Distinctive FeaturePowerful legs and cow-like callHabitatLakes, ponds, rivers and streamsDietCarnivoreLifestyle
Favorite FoodInsectsTypeAmphibianAverage Clutch Size20000SloganHas loud cow-like calls!
Bullfrog Physical Characteristics
Colour
Brown
Grey
Yellow
Black
Green
Skin TypePermeableTop Speed10 mphLifespan6 – 10 yearsWeight300g – 500g (10.5oz – 17.6oz)Length9cm – 15cm (3.5in – 6in)
Bullfrog Images
Click through all of our Bullfrog images in the gallery.Previous
Next
View all of the Bullfrog images!
---
Find your favorite Animals!Search
---
Bullfrog is a semi-aquatic frog, primarily know for the loud call sounds it makes.
Found in both Canada and the US, they are the largest frogs that naturally exist in North America. Thanks to the human migration of these frogs, bullfrogs can now be found in South America.
The definition of a bullfrog has expanded through the last few decades, and the term is now used for the giant frogs found in India and Africa.
5 Incredible Bullfrog Facts!
The American Bullfrogs are found in swamps, lakes, and ponds, several lakes despite being an artificially introduced species.
In general, the average bullfrog will jump a stretch of about 3 feet. However, they can reach distances of up to 6 feet with little effort.
A group of bullfrogs is known as an Army.
Though bullfrogs inhabit most of the United States, they don't ordinarily live in Minnesota, Florida, Nebraska, Colorado, and South Dakota.
Male Bullfrogs usually make loud sound calls to attract female bullfrogs and scare off their competition.
Bullfrog Scientific Name
American Bullfrogs commonly go by the scientific name Lithobates catesbeianus. They belong to the kingdom Animalia and Phylum Chordata. Their order is Anura under the class Amphibia. The family is Ranidae, falling under the Lithobates genus.
The word "lithobates" comes from the Greek words "litho-" ("stone") and βάτης ("one that treads"), though their combined meaning essentially is "one that treads on rock" or "rock climber." Catesbeianus, on the other hand, is a way to honor Mark Catesby. Catesby was a naturalist in the 1700s who is responsible for the first published record of the environment and animals in North America.
Bullfrog Appearance
Bullfrogs, which goes by the scientific name Lithobates catesbeianus, come in a variety of colors including green to olive-brown. Often, they feature a white to yellowish belly, though their legs are usually darker. Their loud calls can sound like a bullhorn, which is how they get their name.
If you aren't sure if you're looking at a bullfrog, check the ears – their tympanum (circular eardrums) is found on either side of the head, though the size will vary from males to females. Generally, the eardrum of a female is about the same size as their eye, though the eardrum of the male is much larger than their eye.
That's not the only difference between them – female bullfrogs are slightly larger than male bullfrogs overall, but their coloring is another indication of their gender. While females have white throats, the males have yellow throats, paired with a much narrower head.
When they reach their adult size, most bullfrogs are about 8 inches long, weighing approximately one pound. However, certain species can be even bigger, including the African bullfrog at 9.5 inches long. As adults, they develop webbed feet on their hind legs, giving them a solid platform from which to jump.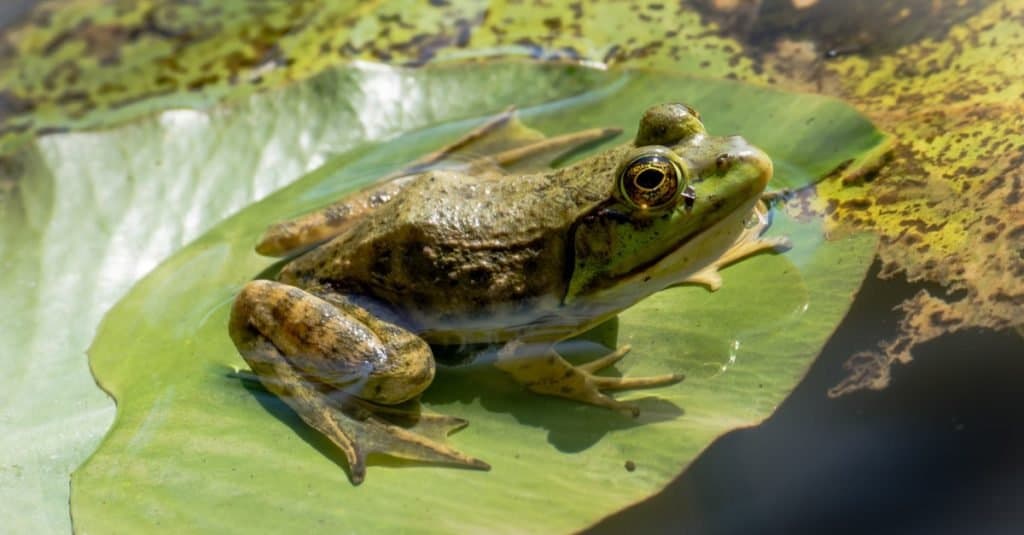 Bullfrog Behavior
Bullfrogs can eat just about anything that fits their mouths. To catch their prey, they just have to quietly wait for their potential prey to pass by. Due to their alertness, they are sometimes referred to as living creatures that never sleep. Once they spot their prey, they quickly lunge with their hind legs with all their power, capturing the prey in their wide-open mouths before snapping it shut.
Male bullfrogs are known to be very territorial and are often found guarding their land. They'll even mark their territory with their scent to prevent other animals from taking it over. Bullfrogs are good swimmers and make powerful use of their hind legs.
These bullfrogs hibernate in winter by burying themselves in huge piles of mud. They are more active during the night when they can be spotted hopping in green areas, though they prefer wet environments with permanent water like lakes or swamps. During the day, they stay near the edge of the water.
While they can bite insects and other small prey, they do not have enough jaw strength to harm a human. They can still grab hold of any extremity near to their mouth with their quick reactions but aren't generally considered dangerous.
Bullfrog Habitat
Naturally, bullfrogs are native to North America, but humans have moved them to other areas around the world as their habitat. They are also found in Central America, Canada, Mexico, and Nova Scotia.
In the 1920s, the bullfrogs were introduced to the Pacific Northwest, providing them with new habitats. Though they were meant to be used as a food source for local wildlife, their reproduction eventually helped them expand their home.
These frogs are usually found in several lakes in Washington. They are found in several sloughs and reservoirs as well. Usually, these frogs are found and comfortably stay at the borders of lakes, swamps, and ponds.
Bullfrog Diet
Bullfrogs feed on a variety of living creatures. Their diet is primarily made of crayfish, snails, water beetles, and small turtles. Sometimes, they will also feed on dragonfly larvae, fish, other frogs, and young water birds.
Some of the bullfrogs have teeth on the roof of their mouth. They have a powerful tongue that helps them catch their prey and slip it into their mouths.
Bullfrog Predators & Threats
Being an important part of the up and running ecosystem, bullfrogs are a source of nutrients that are fed on by a host of animals. Their major predators include large snakes, snapping turtles, and alligators. While these predators usually feed on adult bullfrogs, the tadpoles of these bullfrogs are usually eaten by several fishes in the sea.
What Eats Bullfrogs?
Due to their size, bullfrogs are easy prey for large water snakes, alligators, and snapping turtles. Adult bullfrogs are often the prey of choice for these predators, but their tadpoles are at risk of being eaten as well.
Many fish will also digest the tadpoles as their source of nutrients.
What Do Bullfrogs Eat?
Bullfrogs eat a variety of living creatures to survive. They are carnivorous, and they often feed upon snails, crayfish, water beetles, dragonfly larvae, bullfrog eggs, fish, and young water birds.
On occasion, this sizeable animal will eat other frogs as well.
Bullfrog Reproduction, Babies, and Lifespan
Bullfrogs are usually solitary animals and do not like being in groups. The only time that they are found in groups is the breeding season when they need to find their mating partner and reproduce.
The breeding season in these frogs usually runs from May to July. During this time, males mark their territories in areas where they think eggs could be laid safely to eventually hatch. They even start guarding the area, eventually protecting the eggs when they are laid.
As a way to attract a partner, the male start making loud calls that females can hear. The calls also serve as a way to warn other rival males that they are on the hunt for their partner, deterring them from competing for the same females.
After mating, females lay masses of eggs, releasing clusters of up to 20,000 eggs at a time. These eggs are usually laid on the surface of the water, but they don't remain eggs for long. Within four to five days, they hatch.
The babies of these frogs are called tadpoles, swimming around in the water as they mature. When they are first born, they are approximately four inches long. Since they are amphibians, they slowly grow legs that allow them to walk on land (which occurs at approximately 14 months old). However, they do not reach their adult size until they are 2 or 3 years old.
The usual lifespan of bullfrogs is about 8 to 10 years. While in captivity, some of these bullfrogs have lived to be over 16 years old.
Bullfrog Population
The population of these frogs is not exactly known. However, the number seems to be steady because their conservation status falls under the least concerned category.
Currently, there are no conservation efforts to preserve the population.
Bullfrog In the Zoo
Most zoos in the United States keep these frogs in their exhibits. While they are kept in captivity, zookeepers and even pet owners will provide them with a variety of insects. While their lifespan in the wild is usually only 8 to 10 years, being kept in captivity could help them survive for up to 16 years.
Realistically, they aren't ideal pets for several reasons. They need certain specific conditions to survive in captivity and cannot be released into a random water body to rehome them.
The giant African bullfrogs are often kept in captivity and are known to eat the tadpoles that they guard. When provoked, the African bullfrogs can also sometimes attack humans.